Good things happen when BBTP members get together.
Each month, Best Best Talent Platform organizes virtual gatherings for our members to engage with one another. BBTP monthly member meetings highlight our members' expertise, facilitate peer mentoring, and foster a sense of camaraderie among top-level professionals.
This May, our member meeting focused on procurement. It highlighted the knowledge and insights of our expert member, Lauri Vihonen — an interim manager, consultant, and trainer, who brings immense value to every business he works with.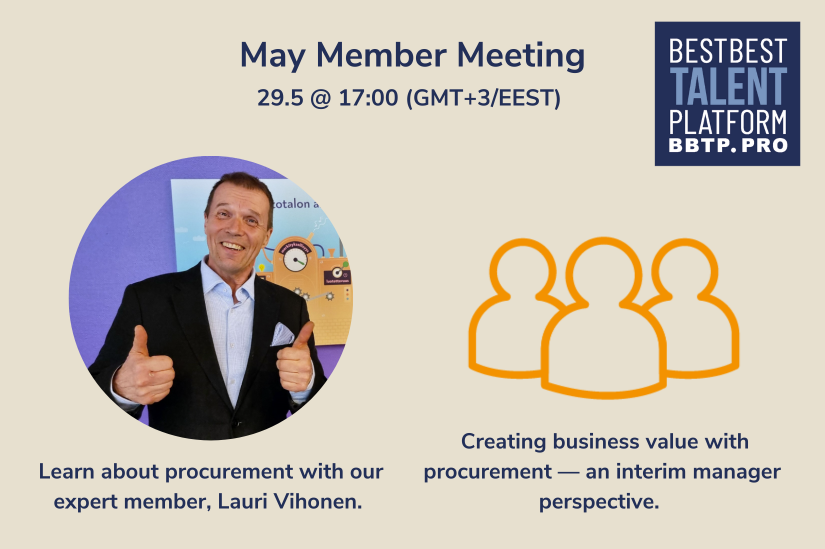 A jack of many trades — Lauri's sweet spot is the combination of his knowledge in procurement, IT, and change.
Lauri is currently working on an assignment at Taitotalo found through Best Best Talent Platform. The BBTP partner handling the assignment is Ferovalo. On May 29th, Lauri shared his knowledge on one of his major areas of expertise and an area which is key to his current assignment.
In case you missed the meeting, the BBTP team has gathered some key points from Lauri's valuable presentation on procurement.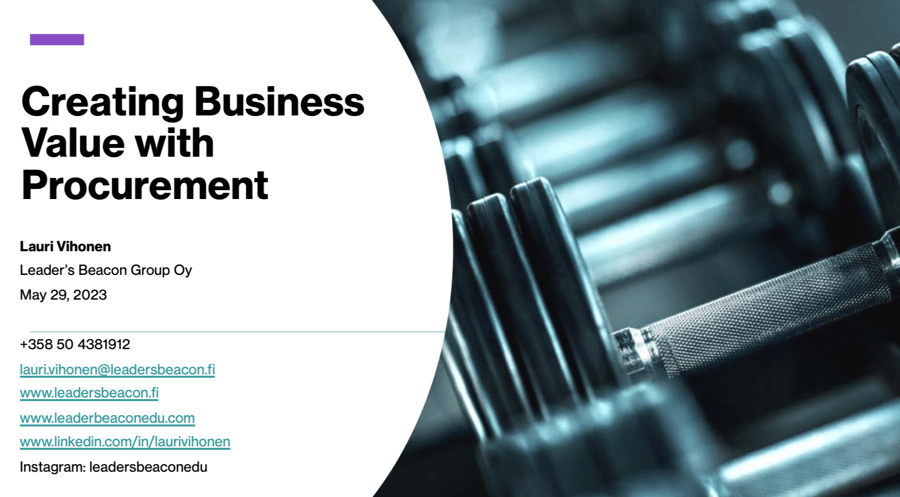 .
What is procurement and why is it important?
Put simply, procurement is a company's purchasing of goods and services.
In the past, procurement was primarily seen as a cost center focused on negotiating the best prices. However, as businesses faced intensifying competition and cost pressures, they began to realize that procurement holds untapped strategic potential.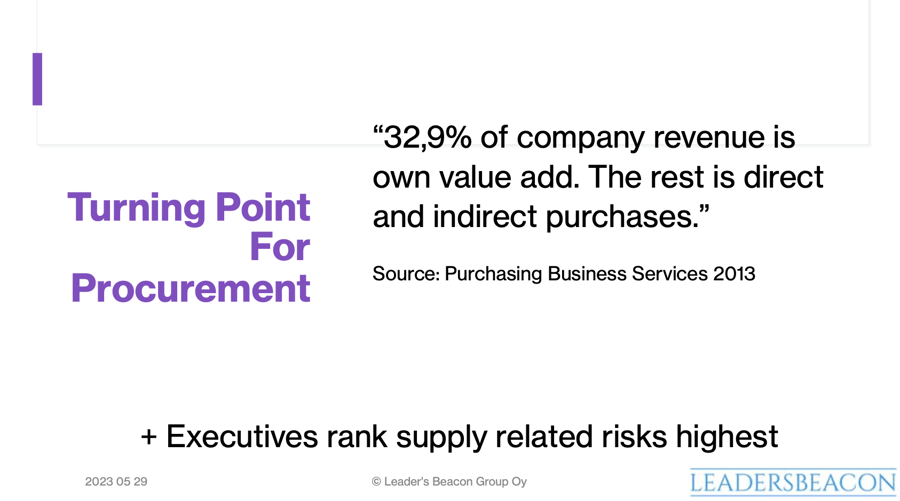 Since almost 70% of company revenue comes from direct and indirect purchases, it is crucial for companies (especially large ones) to consider procurement strategically. In many cases, companies are unable to develop their procurement practices on their own, and an independent specialist, like Lauri, is sought to help guide them.
Nowadays, forward-thinking organizations recognize that effective procurement practices can drive innovation, enhance supplier relationships, and contribute to the achievement of overall business objectives.
C-level consultants and interim managers can bring a new point of view to company purchasing and support businesses in creating more value with procurement.
What are the ingredients of effective procurement?
Adapted from reports by AT Kearney & Spend Matters, Lauri divides effective procurement into 5 principal areas: supplier management, spend transparency, cost management, operating capital, and efficiency. When all five areas are managed with care, procurement has excellent savings potential — typically around 10% in 3 years.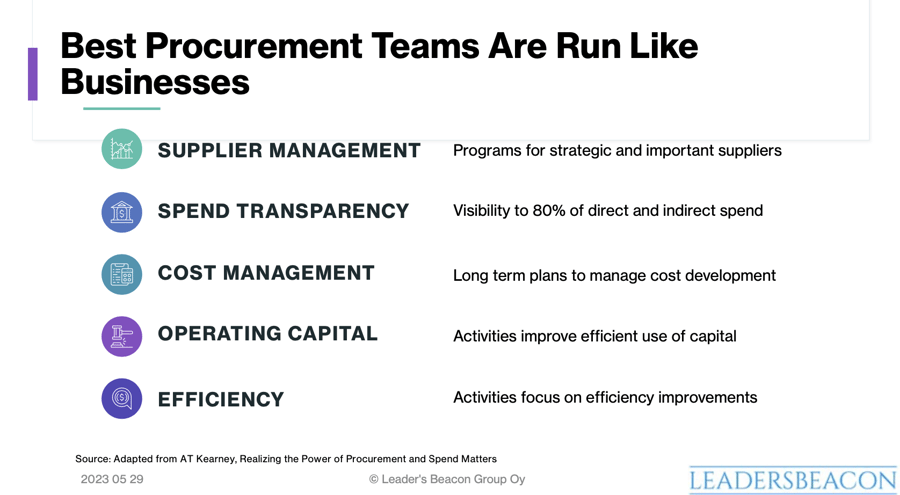 According to Lauri, the best procurement teams not only save money but create more value. The best procurement teams have 2-3 times better return on investment than average teams and 10 times better ROI than the bottom 10% of teams.
Leading companies toward their best value
For companies with small operating budgets, purchasing is likely to be considered a more administrative task and completed by one or several people in-house. On the other hand, companies with an operating budget of 1 million or more are more likely to have personnel dedicated to the strategic area of procurement and are more likely to bring in a specialist for procurement development.
While Lauri has experience on all levels, he typically works with larger corporations— either on the inside, as part of a short or long-term assignment or on the outside, as a trainer. When coming into any new assignment that involves procurement, Lauri stresses the importance of understanding the company's current position.
By identifying a company's procurement maturity level, Lauri can meet the team where they are at and develop a suitable action plan.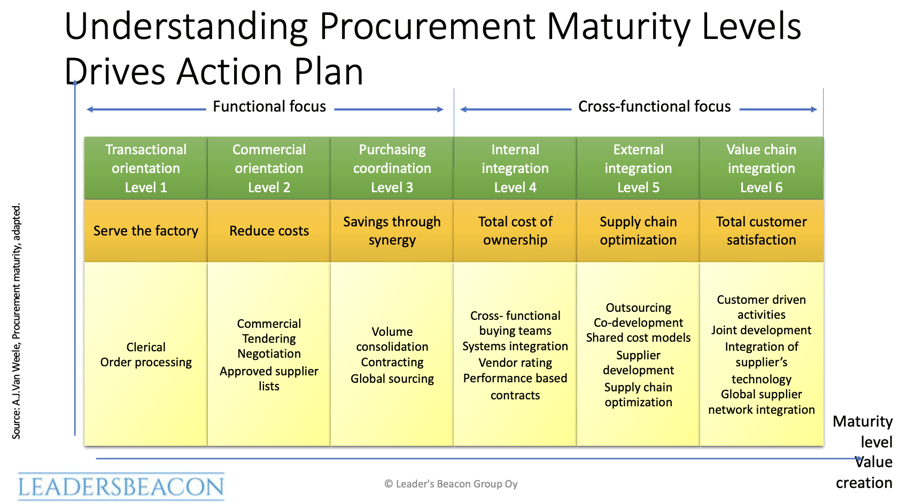 Action plans for procurement development should always stem from the company's overarching business objectives and lay out specific steps for increasing the effeciency of the 5 procurement areas.
In this way, procurement does not stand alone, but feeds into the entire company. With specific steps for improvement, progress tracking is made easier.
Whether a company has business objectives surrounding growth, increased speed of service, or sustainability, procurement should stem from and help aid these goals. Lauri sees procurement development as a process of integration.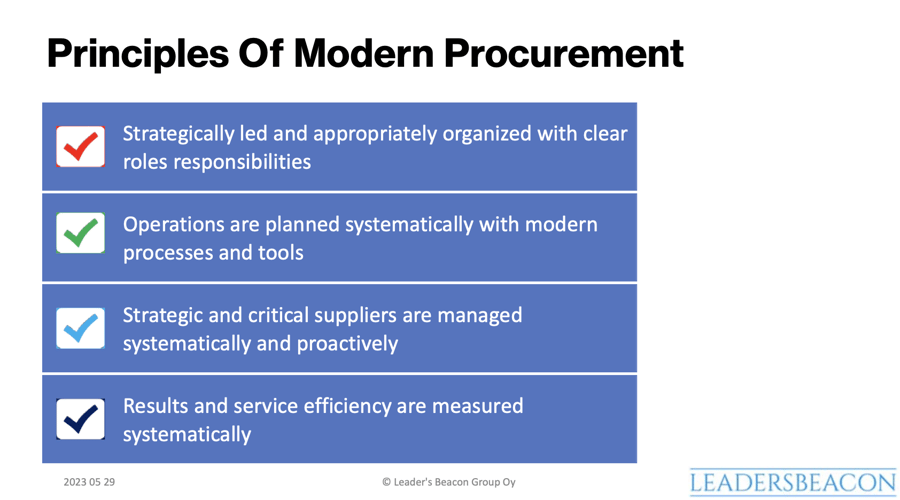 Procurement and interim management
By having knowledge of procurement, interim managers strengthen the expertise they can bring to any assignment. Thus, Lauri encourages interim managers to build their knowledge around procurement development.
Experience with procurement will help interim managers bring more to the table when applying for a multifaceted assignment and bring added value to any company they may work with.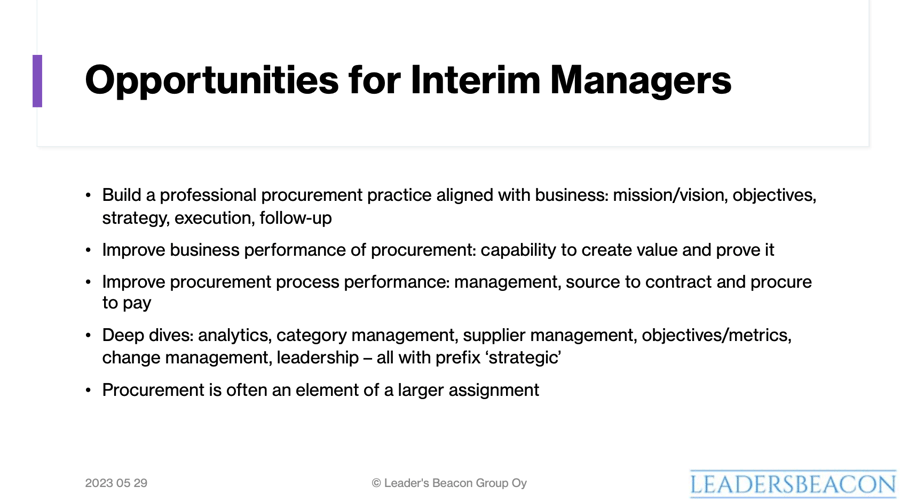 Lauri has a history of pleasing his clients and gaining assignment extensions or new assignments with the same company. The ability to conduct procurement deep dives and manage other procurement initiatives allows an interim manager to offer companies more.
Would you like to expand your experience in procurement?
As part of Leader's Beacon Group Oy, Lauri is available to consult and lead trainings. Contact Lauri today: 
+358 50 4381912     
lauri.vihonen@leadersbeacon.fi
Giant thanks to Lauri for his engaging presentation and Q&A session. If you have a comment on the presentation or this blog post, feel free to leave one below.
Ready to attend
BBTP's next
member meeting?
Member meetings will take a break during the summer and resume in September 2023. All BBTP members are welcome to attend monthly meetings and can always find the meeting details on the home page of the platform.
Not yet a BBTP member?
Register in 2 minutes or less and gain access to the best opportunities. Your next assignment could be right around the corner.
Have something to share with the BBTP community?
If you would like to present at a BBTP member meeting, contact our Community Manager, Leah Martin at leah.martin@bestbesttalentplatform.com or fill out our contact form.