BBTP members discuss struggle and success in expectation management
In Ferovalo's recent pulse survey, many interim managers across Europe expressed a struggle to manage their clients' expectations.

Relating to their current or latest assignment, over 30% of survey respondents said they had problems meeting customer expectations (IMP2022, p. 20). In open-ended questions about the freelancer-customer relationship, clarity of role and expectations came up multiple times.
When asked about assignment problems
(p. 20), one
respondent said, "Some customers have no or very limited experience working with IM, therefore it is important to agree on working details and 'manage expectations'."
Another respondent noted that clients who seek an interim manager do not always know what they want or need — they describe this as a "misunderstanding of their own readiness/capabilities, leading to misplaced expectations of the future" (p. 20).
When asked what they would have liked more of in their current or latest assignment
(p. 21),
several respondents also voiced a desire for clearer expectations surrounding their role and the job to be done.
The results of Interim Manager Pulse 2022 have shown that expectation management is certainly on freelancers' minds. The BBTP team decided to open this topic for community discussion.
In BBTP's February member meeting, we brought this topic to our community — seeking to better understand the struggle with expectation management and to facilitate the exchange of knowledge on how to tackle it.
The member discussion produced several best practices that freelancers should do from the beginning of an assignment, setting them and their client up for success. These best practices include making clear project terms and putting them in writing, and figuring out the practical deliverables before getting started with work.
Another best practice is to set yourself up to exceed expectations — giving a little bit of leeway with the timeline for deliverables so that when a struggle inevitably comes up, you have the flexibility to get back on track.
While these best practices sound straightforward, our members know that it is not always easy to have everything figured out before starting work. It is especially difficult for interim managers.
As a field, interim management is prone to uncertainty. Companies often turn to interim managers when they do not know what they need or how to move forward. Thus, interim managers will likely face unclear expectations and may need to be proactive in creating and managing clearer ones.
For interim managers and other freelancing experts, it is essential to practice expectation management throughout the entire assignment, focusing on honest and transparent communication. By developing an ongoing process of expectation management, freelancers can successfully adapt to the unique challenges of the assignment at hand.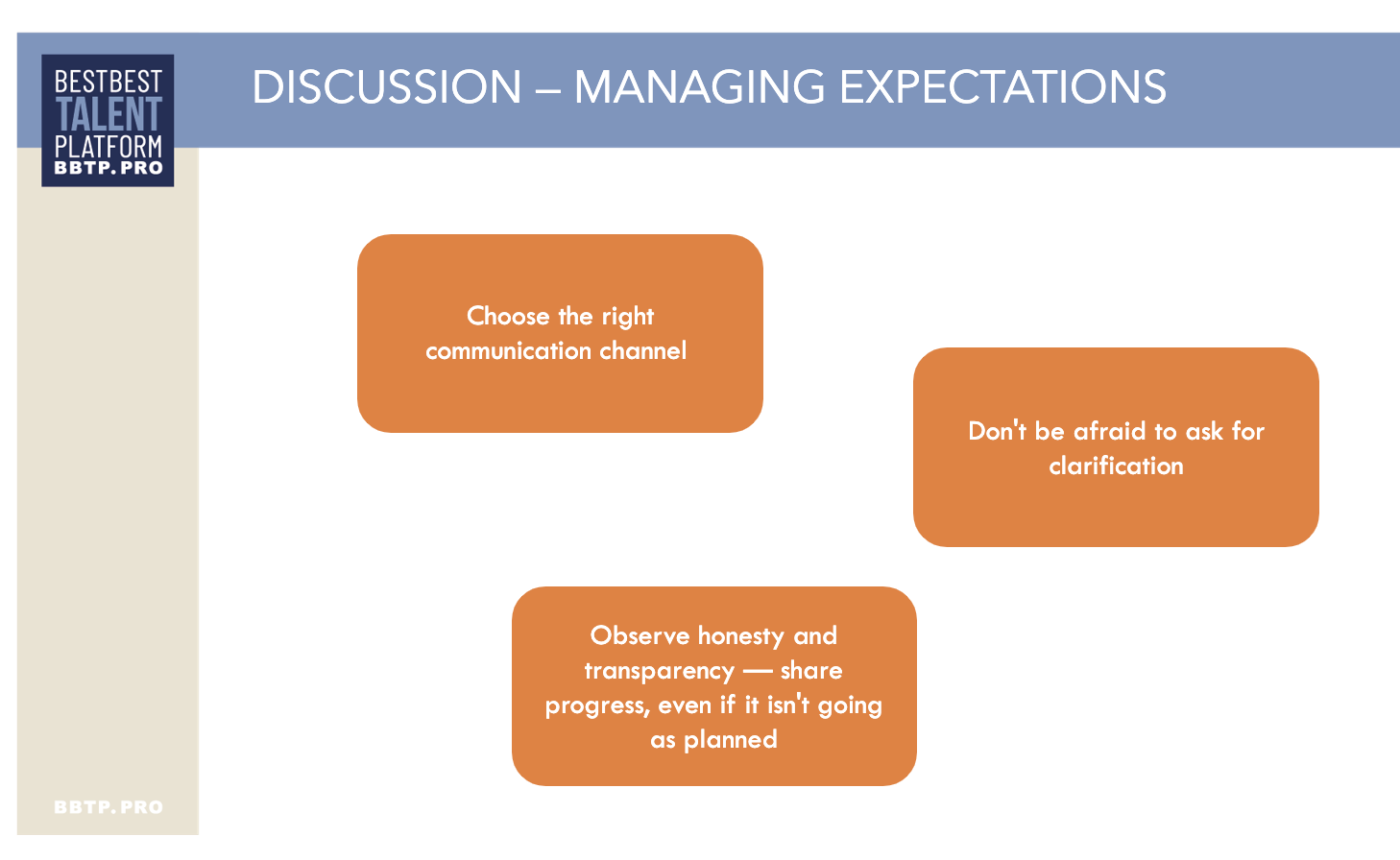 While discussing expectation management and assignment communication, several BBTP members said that communicating with the client can often feel one-sided. For example, you might send a detailed work diary with every invoice but never receive any feedback on it and wonder whether the client even reads it.
However one-side communication feels, our members agreed that maintaining and sending detailed documentation is key to ensuring a happy client and important insurance that you have indeed been working. If you are sending regular progress updates and getting little feedback, then it usually means that the client is happy. Remember that you can always request more feedback or clarification if you feel you need it to move forward.
Contract work is a balancing act.
Freelancers of all types must strike a unique balance — setting their own boundaries, and holding to them, while also trying to give the client the best possible outcome.
During an assignment, it is important to stand up for yourself and what you need to succeed but do so in a way that shows you care about the client and their best interest. One of our members said that even if they go through an interview process and decide not to take on an assignment, they still try to leave the client with something useful – like a practical tip or exclusive analysis. This attitude and practice of care leaves the client with a positive feeling and aids a freelancer's overall reputation in the field.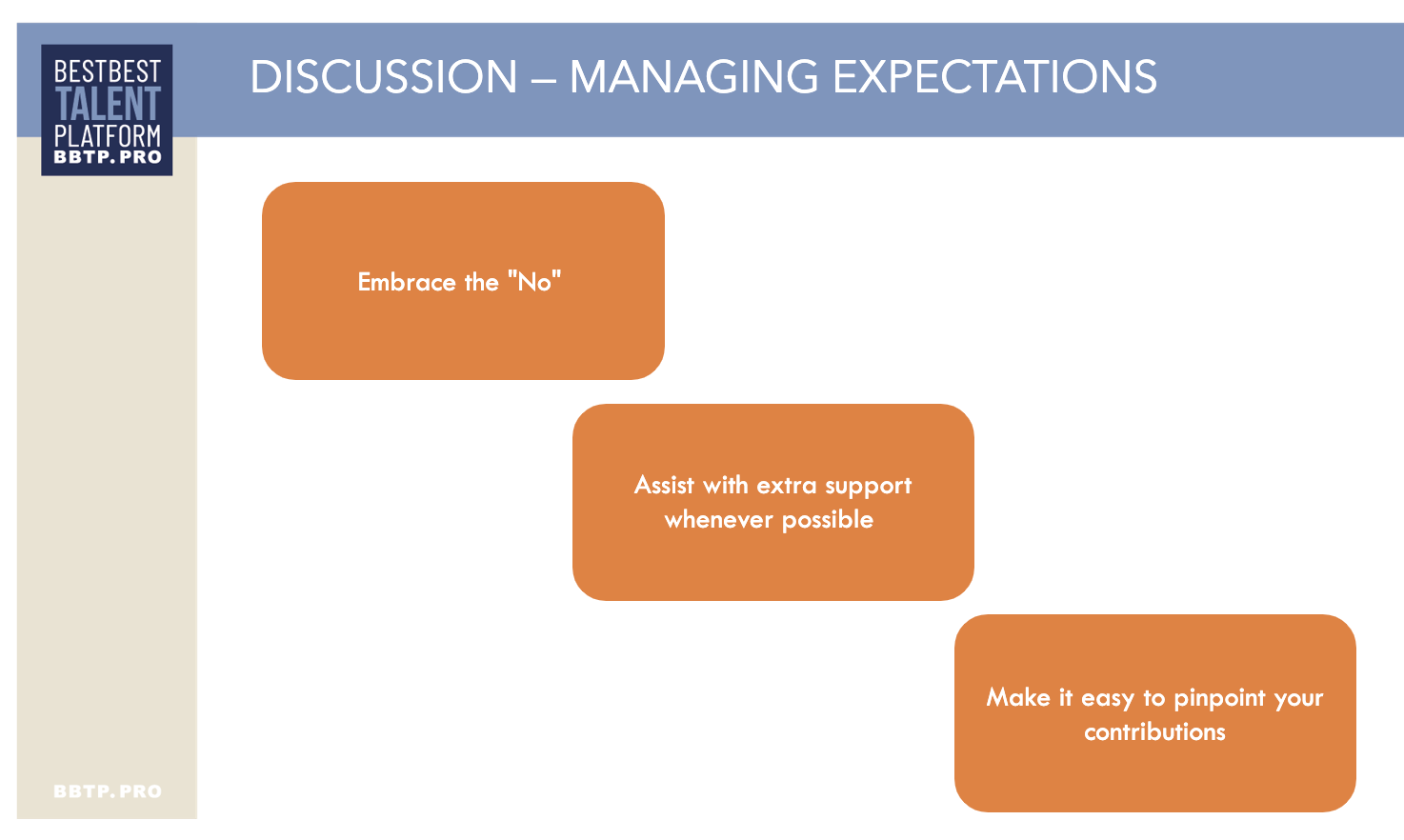 When freelancers find an assignment that perfectly suits them, they can sometimes get into such an intense workflow and lose themselves in the job. For instance, you might present the deliverables for a project and forget to really highlight the value you brought to the company.
If you want to leave the client with the feeling that you exceeded expectations, you must make it easy for them to pinpoint your exceptional contributions. When summarizing your work, do not be too humble. The more you can connect small tasks to the bigger mission or values of the company, the better.
Thank you to all who attended BBTP's February member meeting and for your insightful contributions to the topic of expectation management.
March's member meeting will take place on Tuesday the 21st at 9:00 (GMT +2). BBTP members can find the meeting link on the home page of the platform.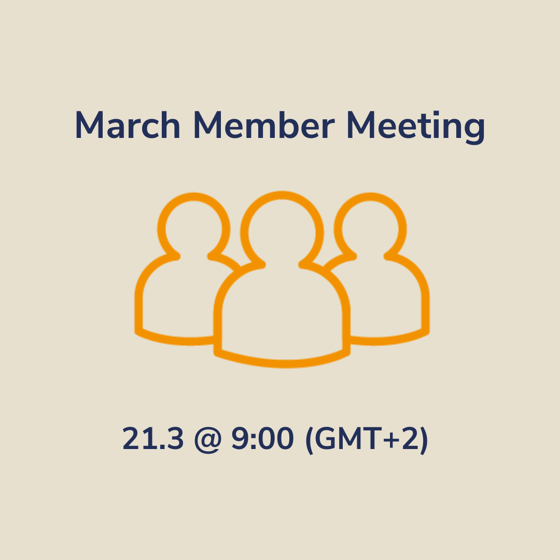 Want to join our monthly meetings but not yet a BBTP member?
Register in 2 minutes or less.
If you have something to add to the discussion about expectation management, you are welcome to leave a comment below.